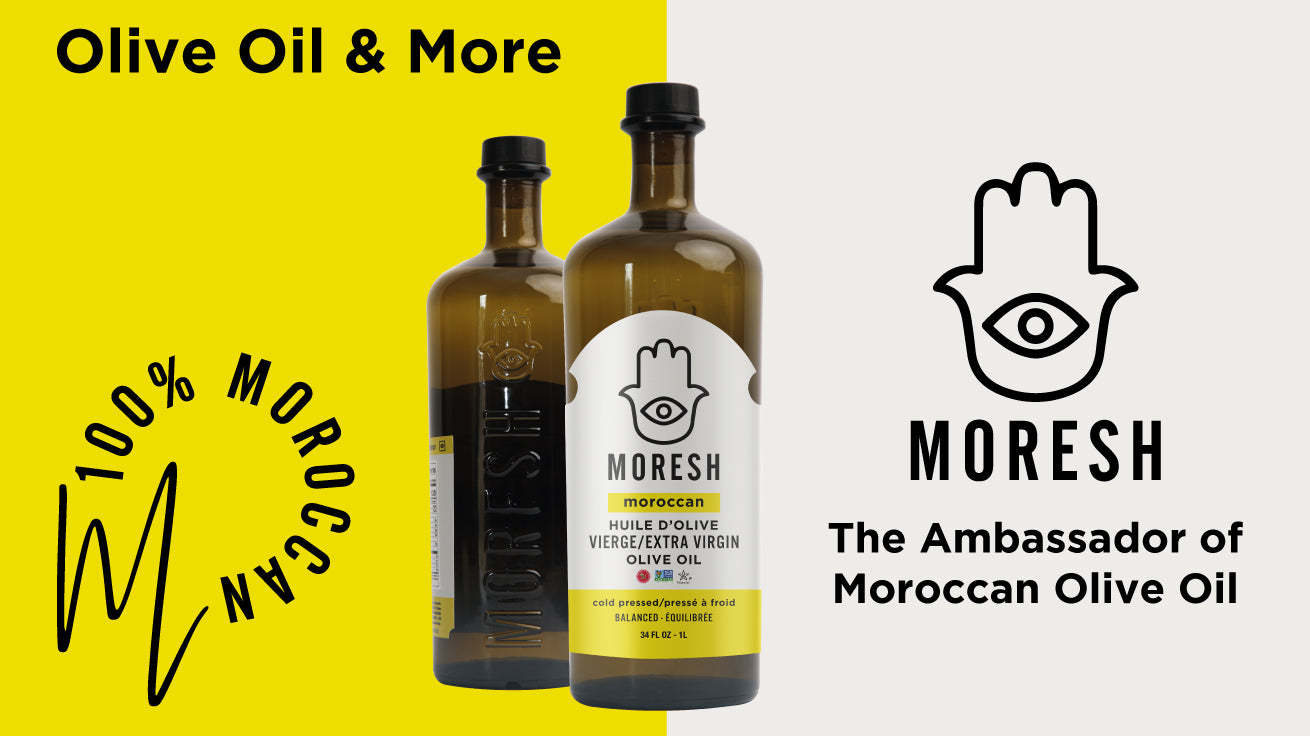 Houston, TX [Jan '23]: CHO America is excited to announce the launch of Moresh, a premium, and award-winning Moroccan olive oil and condiments during the Winter Fancy Food show in Las Vegas.  
At a time when consumers across North America are increasingly looking for healthier foods with high-quality ingredients, Moresh has come as a perfect answer to their needs.  
Moresh extra virgin olive oil (EVOO) is harvested near beautiful Marrakesh and then cold pressed in CHO's state-of-the art fully certified mill within hours for maximum freshness. This ensures that all its natural goodness, rich in potent polyphenols - powerful antioxidants with anti-inflammatory and anti-cancer properties, is retained and enjoyed by customers at its peak taste. 
"With over 30 years of experience crafting olives and olive oils in the Mediterranean, we fell in love with the Beldi olives of Morocco.  It's a superior olive fruit that yields high polyphenols and a beautifully balanced aroma.  We used our expertise to create this beautiful olive oil to represent Morocco." said Wajih Rekik, CEO of CHO America.  
He further added" We're projecting an accelerated growth for Moresh, with ties to over 15,000 stores in the U.S. and Canada". 
 Moresh Extra Virgin Olive Oil (EVOO) is carefully crafted in Morocco, offering a balanced fruity flavor and everyday usability. Recognized for its exceptional quality worldwide, Moresh EVOO was awarded a gold medal at the highly-esteemed China International Olive Oil Competition in 2022, as well as a bronze medal at Zurich.   
With unmistakable modern packaging, Moresh EVOO is bottled in custom dark glass decorated with the hamsa hand symbol. This ancient icon has been symbolizing protection and good luck since the dawn of time across North Africa and the Middle East.  
What sets apart Moresh EVOO from other olive oils is its balanced flavor profile that can be used in all meals. The taste is subtly fruity, yet not overwhelming, allowing chefs and home cooks to bring out their culinary genius without overpowering their dishes with too much flavor. And thanks to its origin in Morocco's temperate climate and fertile soil, it carries the full range of aromas, nurtured by nature's own hands. 
CHO America is proud to include in Moresh collection: single-sourced authentic extra virgin olive oil, olives, lemons, and cuisine staples. The global flavors are enhanced with the traditional Moroccan Beldi lemon. The products are flavorful, healthy, and authentic - perfect for bringing the taste of Morocco into the customer's home.    
Moresh was founded on the belief that food is at the heart of every culture and should be celebrated as such.  CHO America's mission is to be the ambassador of Morocco's exotic, authentic flavors to the western world.